SELECT THE MACHINE FOR WHICH YOU WANT AN ACCESSORY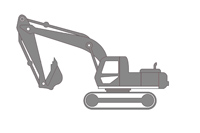 BC
The Basic or BC series is designed for light and non-abrasive materials. The bucket is designed for light work, such as moving soil, clay, etc. Most of the material used is standard steel.
GP 
The General Purpose or GP series is designed for normal excavation under normal conditions. Buckets are suitable for moving moderately abrasive materials such as sand, gravel, limestone, etc.
GP bucket wear parts – front blade, side blades, wear strips are made of HB400 wear-resistant materials.
HD
The Heavy Duty or HD series is designed for harsh working conditions. The buckets are perfect for moving crushed, blasted, natural abrasive material.
The HD series uses HB500 wear-resistant materials. The edges of the bottom plate are also reinforced. Additional reinforcements can be added to the HD bucket series at the customer's request – bi-Metall plates, heels, front blade protection, etc.
Stec's product range

is constantly expanding. If you do not currently find the "right one" in our product range, please contact us and we will make it to you as a special order.
FREQUENTLY ASKED QUESTIONS
ARE THE PRODUCTS IN STOCK?
The most common GP bucket bodies, couplings and consumables are in stock. We make BC and HD buckets to order. You can find all products in stock in our
E-SHOP
.
DO YOU ALSO MAKE CUSTOM PRODUCTS?
Yes, of course, let us know exactly what you need and our team will design and manufacture the product you need.
DO THE PRODUCTS HAVE WARRANTY?
Yes, we provide a 1a warranty on all STEC products, except for the cost details – teeth, adapters, heel reinforcements, etc.